Homemade Paella with Friends
There aren't any hard and fast rules when it comes to paella.  Basically, it's whatever combination of saffron-flavored rice, seafood, vegetables and/or meat that you see fit!
It's actually a very forgiving dish which requires no special skills, although it is nice to have some helpers. If you have patience and good company, it's actually a lot of fun to make paella at home!
My friend Brandon is an exceptionally gifted cook, so I recruited him to make this dish.  He and his wife welcomed us on a dreary Sunday afternoon to cook up this paella perfection.
I brought the pan and the saffron, and I  took the pictures.  Everything else – including the talent – Brandon and his wife graciously supplied.
What Type of Pan to Make Paella? Do I Really Need a Paella Pan?
I received my paella pan as a surprise bridal shower gift.   My aunt found it at TJ Maxx.
However, paella pans are readily available online, and if you are serious about making lots of paella in your future, check out the pan selection at La Tienda.  (The link below offers a $20 discount on orders of $100 or more!)  Amazon also has a decent supply.
If you aren't ready to buy a paella pan, you can still make homemade paella in a large wide-bottomed skillet.  I would imagine stainless steel is best, followed by cast iron  (this one is a favorite in our house) and then a nonstick pan.
Why? A great paella has gets a bit of a slightly burnt rice "crust" at the bottom, and you are more likely to achieve that with steel or cast iron.
Ingredients for Paella
I apologize that there aren't quantities for each ingredient. I blame the copious amounts of wine we were drinking, which if memory serves me, was my fave: a Marques de Caceres Tempranillo from Rioja
.
I have faith you can wing it, though. Let your own wine consumption be your guide.  Gather what you have on hand, and mix it up, guiri style!
What We Used to Make Our Delicioso Paella
Meats: chicken thighs (4-6?), 1 Chorizo Sausage

Seafood: shrimp, mussels, clams (no idea on quantities… ¡Lo siento!)
Veggies: 2 cloves garlic, 1 red pepper, 1 package cherry tomatoes, 1 bag peas, 1 Spanish onion, 1 small handful of flat-leaf parsley
Spices:  Smoked paprika, salt, pepper and a few threads of saffron
Rice
Olive oil
¡Ojo!  Read this entire post before beginning to cook.  I don't have experience writing recetas, so I can't guarantee the order of my steps makes sense.  It's also wise to do all your reading before you start drinking your wine. 🙂
First Things First: Water Works
Set a large pot of water to boil on a burner alongside your skillet. You will be cooking some seafood alongside your browning meats. Do this now, and you won't forget.
Also, take a half cup of warm water, and drop a couple threads of saffron in it. Set aside and let it steep like tea. You'll use this later in the process as well. If you don't have saffron, just omit this step. Your dish will still be delicious.
Brown the Meats and Chop the Veggies!
Begin by browning chicken thighs in a base of olive oil that is hot but not smoking.  Set aside when outsides appear browned.  They will finish cooking all the way through later in the paella.
While you brown the thighs, have your helpers mince the garlic, chop the red pepper, halve the cherry tomatoes and dice the onion. Set them all aside in a mixing bowl. They will be added to the paella later in the process.
After removing the chicken, brown some chunks of chorizo in the same pan.  Remove and set aside when browned.
We used regular Mexican chorizo which is easy to find at the grocery store.  Yes, it does taste different than Spanish chorizo.  Mexican chorizo is spicy whereas Spanish chorizo's flavor is garlic and paprika-based.
We were going for the authentic social experience of making paella versus true flavor authenticity.  Use what you can find.  However, I've purchased some really delicious Spanish chorizo from La Tienda in the past.
The chorizo will give off some nice oil as you cook it.  At this point, if you like shrimp, sauté them in this oil, and set them aside. Keep the oil.
Seafood, If You Are So Inclined: Shrimp, Mussels and Clams
Midwesterner that I am, I have a natural aversion to seafood. However, my friends love it, and lucky for me, my buddy Brandon knows where to get the good stuff.
While Brandon was busy with browning, his wife and I rinsed the mussels and clams under cold water in a strainer to remove any surface debris.
Keep in mind these little guys are still alive, so at this stage we also threw out any that were cracked, open or otherwise funky. Nobody wants to eat a clam she didn't kill herself, am I right?
Now, I must shamelessly crib the next step from this Epicurious article because I forgot to write it down. (Remember all that wine we were drinking?) I do remember though that we cooked the clams and mussels together all in one step.
"Discard any with cracked or open shells. To steam mussels: For 1 1/2 to 4 1/2 pounds mussels, put 1 cup liquid (water or a mix of water and white wine or beer) in a 4- to 6-quart pot. Bring to a boil, then dump in the mussels and cover. Reduce heat to moderate and cook, stirring occasionally, until the mussels open wide. This will take 3 to 6 minutes, but check frequently after 3 minutes. Scoop out the mussels with a slotted spoon (discard any that are unopened) and save the flavor-packed liquid if desired."
Yes, you desire that liquid. You will use it later as a broth for the rice.
Actually, feel free to increase the water a bit to make more broth. If that is confusing, just follow the directions, and add regular water to the rice later.)
We threw away any mussels that didn't open up when they were steamed because…Because Brandon told us to, honestly!
Then we tore off the empty half of the shell and set aside the mussels and clams on the half-shell to be returned to the paella later in the process.
Time for the Supporting Cast: Vegetables
In the now-flavorful oils that remain in the pan, add diced yellow onion, chopped red pepper, minced garlic and halved cherry tomatoes.  You can add more olive oil as you cook if things start to look a bit dry.
As far as I am concerned, olive oil is a good fat, one of those "keeps your arteries supple" things,  and therefore I pay zero attention to how many calories it has.  Life is too damn short.  How much?  Eh, eyeball it.  I don't believe in such as thing as too much olive oil.
However, don't have your flame too hot or you could scorch the oil.  It does have a lower burn point than canola or peanut oils.
What Kind of Rice to Use in Paella
Most paella recipes insist on a specific short-grain rice from Valencia, Spain called Calasparra rice.  You can get the real thing at La Tienda. A good substitute is Italian arborio rice, which is used in risotto.
Frankly, we were going for the "use a bit of this and that" approach, and we ended up using regular old long-grain rice that you'd pick up in the Mexican food aisle of your grocery store. It worked fine.
However, I don't suggest using any sort of minute-rice in this recipe, or in the rest of your life, for that matter.  Once you learn how to make regular rice from scratch, you'll never go back.
How to Toast the Rice in Paella
Add dry, uncooked white rice to the onion, garlic and pepper that you've been sauteing.  Just like the many meat and seafood ingredients that came before it, the idea here is achieve a golden, pan-fried look. Stir around a bit to make sure it is evenly coated and toasted.
After the rice has been toasted to a golden color, poor in your half-cup of saffron infused water. Follow this with enough of the retained seafood broth to cover the rice completely in the pan.
Fresh parsley is another essential flavor in Spanish cooking. Use the flat-leaf kind rather than curly.  Finely chop a small handful, or if you are fancy like Brandon, grind it with a bit of salt in a mortar and pestle. Toss the parsley into simmering paella.
You Are Almost There! Casi, Casi!
Throw the chorizo back in at this point. While the paella still looks soupy, add the cooked chicken pieces back into the paella pan, and the rest of the previously cooked food.
The ingredients in the paella pan will now have a soupy look to them.  Let them simmer over medium-high heat.  If it starts to look dry, and the rice is still too hard upon a taste test, keep adding more seafood broth or water to the pan, just a ladle-full at a time.
The idea is to keep the rice soaking up more flavor and getting softer, but not to inundate it past its absorption point.
Stir the rice as little as possible once you add the broth.  Stirring wet rice makes its texture gummy.  No bueno.
Along the way, taste test the rice.  Just take a small forkful and bit it to see if it is soft all the way through.  You can also use your fork to see whether a slightly burnt rice crust has begun to form at the bottom of the paella.  This isn't essential, but it is really delicious.  When you are satisfied that the rice and ingredients are cooked through, turn up the heat slightly to evaporate excess liquid from the dish.
Because Brandon is an artista as well as a jefe de cocina maravillosa, he took care to arrange the mussels and clams in the paella in such a pretty way that I couldn't help but snap dozens of pictures of it.
Behold the Beauty That "Winging It" Hath Wrought
This paella was knock-your-socks off good. We began making it on a dreary Sunday afternoon, and by the time night fell we had a veritable feast before us.
It took us 2-3 hours from start to finish, so be sure you have a couple bottles of wine on hand and are in the company of people you enjoy.  This is not a dish to make when you are in a hurry to eat. (If you want quick quasi-paella, read this post!)
Also, as you can probably guess by looking at the pictures, this was way too much food for four people.  I think this recipe would serve eight people easily.
Make sure you quickly refrigerate and eat any leftovers within twenty-four hours because seafood spoils quickly.
I was so proud of Brandon's creation that I showed pictures of it to my Spanish tutor José who is from Barcelona.  He pointed out that he mixing the meat and seafood together wasn't a traditional approach, but in the same sentence he also pointed out that it looked damn delicious.
Let me tell you, amigo, it was!  Besides being delectable, it was so nice to spend an afternoon among close friends, savoring life the Spanish way.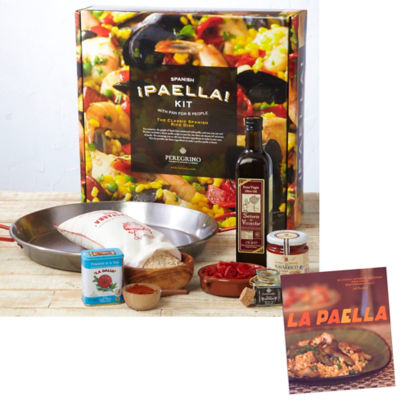 Please note that this post contains affiliate links, and if you decide to buy an item using the links provided, I may earn a small commission.  However, to the best of my knowledge, you won't pay more going through an affiliate link than you would have paid by just visiting the product's site on your own.  This is not a sponsored post, and all opinions are my own.