Hi there, amigos! Before we talk Spanish recipes, I ask that you please forgive my extended absence.  I am indeed still alive, but have been working like a loca on a TV show, and that means while I might have had a little time here and there, I've had no energy left little for my little rincón del internet. However, I'll try to write a new entry at least once a month moving forward.  If you don't hear from me, send me queja (complaint) via email, and maybe your disappointment will be enough to light the fire under my butt to get back here.
Venga, let's talk Spanish recipes.
EN ESPAÑOL:  Torres en la cocina
I want to introduce you to an awesome cooking show from Spain called Torres en la cocina, which airs on TVE.  Twin chefs Sergio and Javier Torres use seasonal ingredients to make impressive but simple Spanish dishes, and give viewers tips and tricks along the way.
Sometimes the episodes use ingredients like bacalao (salt cod) which I've never used before but have been curious about for a long time. La Tienda sells it, and now that I know what to do with it, I may give it a go.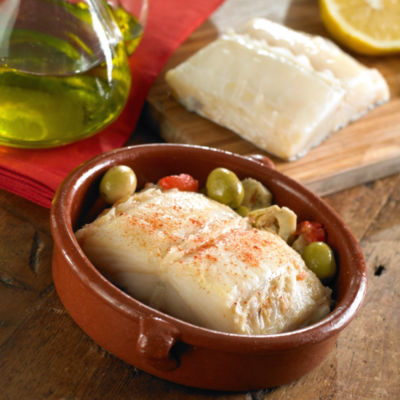 I salivated watching the brothers prepare pimientos rellenos de brandada.  Other ingredients, like garbanzos (chickpeas) are staples in my kitchen and I'm excited to use them in a new way.
Los Torres on the interwebs
There are multiple ways to get your hands on las recetas Torres, including Instagram, Pinterest and Twitter. Their Pinterest account frustrates me a bit because there the Spanish recipes aren't categorized by ingredient like they are on the TVE website, but rather by the week in which the recipe aired.  This isn't a smart long term organizational framework.   Further, some of their pins don't take you directly to the recipe on the TVE website, but instead link only to an image file.  (I've left a message on one of their pins explain this; wish me luck!)
My preferred way to follow them is Instagram at @torresenlacocinatve.  When they post something that strikes my fancy, then I go search for it on the TVE website.  Click Recetas and then you'll find each recipe by main ingredient category.
Each individual recipe page includes the video to the corresponding segment at the top.
Side note to self:  I really need to learn all these Spanish cooking verbs.  I don't know how to explain how to cook anything in Spanish.  Batir (stir) is about all that comes to mind, which makes following Spanish recipes hard!
EN INGLÉS:  HolaFoodie.com
If you just want to lust after gorgeous Spanish recipes and food in English, HolaFoodie is for you.
The website design is modern and beautiful; the photos are drop dead gorgeous; and the entries are written in beautiful English which often includes a nice little story before getting to the recipe.  (On a personal note, can I say #websitegoals ?)
From the site's authors, London-based couple Eduardo de Felipe and Lara Viejo:
We love travelling Spain. And being Spaniards, of course we love eating our food too! Come and join our trips across this stunning country and let us show you some beautiful hidden corners whilst we introduce you to some of our favourite people. Find out about our food and how we produce it. Master how to cook it and most importantly, learn how to enjoy it as much as we do.
Oh, and the website allows you to dynamically adjust for metric or imperial measurements as well as the amount of servings you want to make.  (Where, oh where, was this website during my roscón de reyes disaster last year?)
Personally, I am looking forward to making the Andalusian-style potatoes (Papas aliñás) and the Andalusian-style chickpeas and spinach. I coincidentally have all the ingredients for the chickpea recipe in my pantry or freezer right now, no special shopping trip needed!
Enseñanza, my friends…
Another awesome feature of HolaFoodie are the educational posts.  For example, you probably know sherry (aka jerez) is from Spain, but did you know there are several different kinds with vastly different flavor profiles?  No, you didn't?  Well lucky for you, HolaFoodie offers A Beginner's Guide to Sherry.
Or you want to learn more about my favorite Spanish white whine, albariño?
  Read their post Albariño, the Wine of the Sea.
Suffice it to say I immediately want to be best friends with everyone at HolaFoodie.com.  Can I trade them a stay in our guest bedroom and tours of Chicago's artery-clogging food establishments in exchange for a Spanish gastronomic adventure?  haha 🙂
HolaFoodie rules la red
The HolaFoodie team knows what they are doing online.  Check them out at the following social media links!
And my goal is to make their beautiful chickpea & spinach recipe before we all meet here again.  I can't promise you hasta pronto, but at the very least, it's hasta la próxima, my friends!
Twitter:  @holafoodie
Facebook:  https://www.facebook.com/holafoodie
Instagram: @holafoodie
Pinterest: holafoodie
Google+: http://google.com/+HolaFoodieProject
and BlogLovin'
Please note that this post contains affiliate links, and if you decide to buy an item using the links provided, I may earn a small commission.  However, to the best of my knowledge, you won't pay more going through an affiliate link than you would have paid by just visiting a product's site on your own.  This is not a sponsored post, and all opinions are my own.